Herb Gardening

Herb gardening often evokes a time when grandmother's kitchen garden always contained the right ingredients for that special recipe. Well, at least that's the way we sometimes romanticize our memories.
But truth be known, it is possible to easily grow a number of herbs for that special recipe right on your patio, in your yard or in your desert garden…and at a significantly reduced cost and with improved flavor. All it takes, once again, is a bit of specialized knowledge.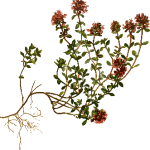 In the Garden Club, rather than try to recreate success, we point our members to the experts; namely the Arizona Herb Association. Here are links to their most popular websites:
Tip for Growing Herbs: http://www2.azherb.org/wp-content/uploads/2012/05/Growing.pdf
AHA Home Page: http://www.azherb.org/
As indicated, some herbs tolerate the hot summer such as basil and rosemary. Most, however, prefer an environment that is protected from the harsh afternoon summer sun. And remember, our local bunnies have a taste for herbs, as well, so keep protection in mind.
**************************************